Bobby's Charities
There are a number of charities which I have been involved in for quite some time now.  They include: 
Blackrock Hospice
The Blackrock Hospice is a newly opened hospice, which is attached to the older, larger hospice in Harold's Cross, Dublin, which was opened in 1879.  Like the older hospice, it is a specialist palliative care unit.  It provides total care of patients and their families at a time of serious illness and is a warm, caring, holistic centre of care for the chronically ill. The Nora Barnacle Yacht Race around Dalkey Island has raised over €100k for this cahrity so far.
Crumlin Childrens Hospital
Our Lady's Children's Hospital Crumlin is an acute paediatric teaching hospital with 248 beds, employing over 1,500 staff.  It is Ireland's largest paediatric hospital and is responsible for the provision of the majority of tertiary care service for children including the national centre for cardiac surgery and haematology/oncology, major burns, medical genetics  and medical research for childhood illnesses.
This is a charity which is dear to my heart, as my daughter Emily, had a number of successful heart operations whn she was a baby under the great skill and care of Mr. Maurice Nelligan and Dr. Paul Oslizlik.  She is now a very happy and healthy18 year old.
Fairtrade
I was instrumental in converting Insomnia to 100% Fairtrade purchases in 2006.  We were the first Irish coffee company to do this and our conversion is reflected in a 25% increase of Fairtrade products consumed in the Irish Market.
I have been actively involved in this association and have been on many trips abroad to the sources of origin.  There I have seen, first hand the excellent work that has been carried out in coffee growing communities in Kenya, Tanzania, Ethiopia and Nicaragua.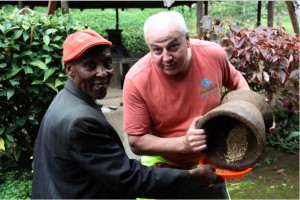 The Fairtrade Foundation is the independent non-profit organisation that licenses use of the FAIRTRADE Mark on products in the Ireland and the UK in accordance with internationally agreed Fairtrade standards. Their vision is of a world in which justice and sustainable development are at the heart of trade structures and practices so that everyone, through their work, can maintain a decent and dignified livelihood and develop their full potential.
Special Olympics
Special Olympics Ireland are the nominated charity of Insomnia.  Special Olympics is an international organisation and competition held every two years, alternating between Summer and Winter Games, for people who have intellectual disabilities. There are also local, national and regional competitions in over 150 countries worldwide.
http://www.specialolympics.ie/
Habitat For Humanity
Habitat for Humanity is a very worthwhile charity that I have recently gotten involved with.  Habitat for Humanity is an international non-profit organisation that aims to eliminate poverty housing by building simple, decent, affordable homes and by making decent housing a matter of conscience and action.
Habitat for Humanity does not build houses for people; it builds with them. They work together with homeowners and volunteers to construct, renovate or refurbish homes, using donations of money, land and materials. Once completed, houses are sold to partner families at no profit, providing a hand up, rather than a hand out.
Bobby raised over €50k on this building trip.